Greetings

My group and I are looking for an Executive Producer, Partner/Investor, with funds or access to funding, who would be interested in being part of an exciting International Exploration Travel Extreme Adventure Underwater TV Series, "UNDERWATER ODYSSEY". It is important to note that this is not just a "Niche" show, demographic research showed that about 85% of the viewers of The Scuba World TV Series were "not divers" they were "high subject interest" viewers.

This is a basic introduction of my business plan as it is now developed. There are, as you know, many ways a series can be produced, and syndicated. There is very possibly, a chance it would be taken up by a network, and paid for, however I am counting on the probability of syndicating it myself through a barter arrangement to several different networks and keeping half the commercial time. This is a successful paradigm, which worked when producing "The Scuba World Television Series" for 6 years with Third Coast Productions, and shows like the old Mutual of Omaha's "Wild Kingdom", and "The Extremists".

Carriers like The AQUA TELEVISION NETWORK, ABC Family Channel, The Travel Channel, HD Net, ESPN, OLN, The Water Channel, and other networks, plus selected broadcast stations, will give us the households we need to sell our commercial time. We have plenty of interest from destinations to host us, dive gear manufacturers to support us, and usually have no problem getting airlines to carry us.

In the business plan I have outlined 5 areas the series will generate sales from, and we plan to produce other series as soon as possible. I.E. a sister series, " The Outdoor Camera", can be done very quickly, piggyback, which will feature a well-known outdoor photographer each week.

Business plan sales departments:

1. Advertising Commercial time sales, and "Branding" features.
2. Ancillary production sales, documentary and movie production (we have scripts)
3. Domestic and International Syndication, and Distribution.
4. Yearly "Swimsuit Issue/Calendar Special".
5. Internet Sales.

In return for the investment of $250,000 for a full 20% partnership (or better, the full $450,000 for up to 40 points) I am committed to producing a series which will be significantly better than any of its type produced before, or any being done now. I would like to produce the series for about 10 years, and then retire, leaving behind a solid production company, and relinquishing a larger share to my initial partners and investors. The type of commitment my team and I plan to put into this series is rare. The show will be spectacular, and fun to do, but my single primary goal is to make money for my company, and my investors. I will be bottom line focused.

Please let me know if there is some way we can work together to do this series, or if I can help you in any way. Call me at any time with any questions you may have, and if you want to see the business plan.

Thank you for your interest.

Jim Aden

Executive Producer
Jim Aden Productions Inc.

Jim Aden Productions Inc.
Centrally located near DFW airport in Fort Worth. Experienced producer. Expert diver and underwater videographer with all own equipment, seasoned traveler.
Address: Jim Aden Productions Inc., 7500 Jade Cir., Fort Worth Texas 76180, USA
Producer/Director of documentaries, Reality TV Series, resort/travel promos, commercials, adventure/diving sports TV series. Underwater videographer. Still photographer. Knowledgeable in sales, foreign travel, exotic location procurement, and Syndication.
Will have HD 4K cameras, Gates housing, lights, all diving equipment, and destinations sponsored. Cert. Brooks Inst. Of Photo. Shot underwater video on over 50 episodes of TV series "SCUBA WORLD", 10 "Mermaid Movies", and numerious other speciality, commercial, and corporate videos.
Objective : To do also freelance producing, or underwater work anywhere, anytime, or to help produce a similar series for syndication.
"Have Gear Will Travel".
I have a affordiable and wide ranging advertising and marketing plan for "Underwater Odyssey". Reach 60 million clients a year for 2 cents each.
JIM ADEN CREDITS
Brooks Institute of Photography, Santa Barbara Calif. Certification Underwater Film & Still Photography
Berkley Film Group (U/W cameraman) 16mm B&W 3-15 min. Training films for USN & Coast Guard. 16mm Color 10-20 min. Training films for USN.
Scripps Institute of Oceanography (U/W cameraman) 16mm Color Research filming of Abalone beds North of San Francisco.
Flower Gardens Ocean Research Center "FGORC" (Dive Master & U/W cameraman) 16mm Color Research films of Flower Gardens Coral Reef Gulf of Mexico
Third Coast Productions Videographer(V), Producer(P), Director(D), Writer(W), Sales Exec.(S) Director Sales and Marketing "The Scuba World Television Series" At various times performed duties V,P,D,W,S Shot all U/W video on over 50 Episodes of "Scuba World", over 10 feature "Mermaid Movies", and many specialty videos in over 17 different countries.
Most recent work done with Rocket Science Labs on Dallas/Fort Worth Reality show segment
SOME SELECTED VIDEOS "Carl Fismers Treasure Hunting Made Easy", "Underwater Hunting-Gulf Oil Rigs", "Water Toys and Diving Buddies", "Caribbean Invertebrate Guide", "Caribbean Fishwatchers Guide", "Red Sea Fishwatchers Primer", "The Underwater Habitat Key Largo", "Lee Harvey Oswald LIFE cover photo, Real Or Fake?"(with Jack White, and Jim Marrs), "Shooting Great Underwater Videos with Perry Tong", "Underwater Photography Cathy Church Photo Clinic", "Modeling for the Underwater Video Camera, with Kim Acker-Hext", "Underwater Navigation Made Easy, with Jim Aden", Many other corporate, training, and promotional videos. Executive Producer "Underwater Odyssey" TV Series.
COMMERCIALS (S,V) Continental Airlines Two 30sec. spots (S,V,P) Cozumel Island Hotel Association One 2 min. spot,One 60 sec. spot (Gold Addy 10th Dist. AAF) (S,P,D,W,V) Casio Dive Watches Two 30sec. spots (S,P,D,W,V) Ikelite One 30sec. spot (S,P,V) NAUI Three 30sec. spots (S,W,P,V) 1-800-TROPICS Two 30sec, One 60sec. spots (S,V) Meador Chrysler Four 30sec. spots (S) Hawk Electronics Three 30sec. spots (S) Ponchos Mexican Food Two 30sec. spots (S) Trinity Meadows Three 30sec. spots (S,P,D,W,V) Peyton Wright Ford Two 30 sec. spots
UNDERWATER ODYSSEY
Thirty minutes of underwater exploring travel and adventure.
UNDERWATER ODYSSEY will be a HD TV production, with spectacular scenes, a fast paced informative, intelligent adventure series featuring extreme sport diving, the ecology and an occasional "X-Files" episode where we search for mythical and legendary creatures, and places. Expert divers who will bring you a weekly series about exhilarating diving destinations all over our planet ocean. Tropical paradise destinations, inland waterways, caves, wrecks and the frigid waters of our northern seas will be our subjects. We will feature top celebrities and fresh new faces each week as we explore our planet Ocean.
"Underwater Odyssey" will bring to your home regular features about photography, videography, equipment, diving skills, natural phenomena, the ecology, exploration and archeology from locations all over the world. Shows designed to expose you to the entire experience of diving and our planet's mysterious underwater realm.
Look for these adventures:
Bora Atoll
Bora Bora: Featuring the South Pacific's most exotic diving. Warm seas prolific fish and coral life. Polynesian cultures, a dreamlike experience.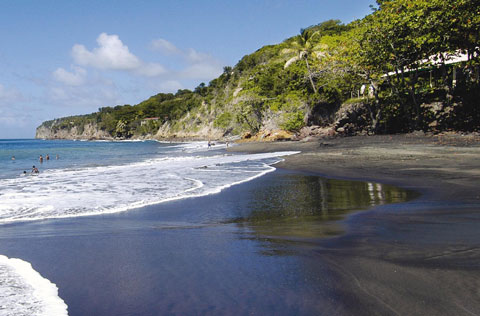 Montserrat: Beautiful, warm and friendly. Montserrat diving is unknown. Dive with us as we explore reefs for the first time in the Caribbean waters of Montserrat, and look for underwater volcanic activity.
Cozumel: One of the best diving destinations in the world. Always crystal clear, warm and friendly. Many have been there, but no one should miss it.
Jamaica: Jamaican waters are wonderful - clear and alive with fish, coral and history. Jamaica is a "feel all right" exciting place to go. "Irie mon"
Giant Pacific Octopus at the San Juan Islands and "X FILES" episode searching for the "Cadborosaurus"
North Pacific San Juan's: World class adventurous diving, very cold, but with good visibility and some of the most spectacular underwater sights in our oceans. Don't pass up the cold but beautiful North Pacific, and a"X Files" side episode where we search for the "Cadborosaurus Willsie".
Ambergris Caye diving
Captain Morgan's Cave: Just offshore of Ambergris Caye Belize, and possessed of a sometimes deadly tidal current, this cave has never been filmed, and is said to empty into the crocodile infested lagoon behind the islands beaches.
Andrea Doria: Diving for the experienced deep water wreck diver. The cold turbid North Atlantic Coastal water is home to one of diving's most romantic wreck dives. Come with us to 240 feet and high adventure.
Commercial Diving
Commercial Diving: Explore stories of the professional commercial diver. High tech saturation diving and blackwater, highly challenging, highly lucrative and highly dangerous. Only a few can "hack it".
Truk Lagoon: World famous for wrecks of the Japanese Navy. Explore the carefully and reverently preserved wrecks of Truk Lagoon with our film crew.
Palau: The clear warm waters of Palau are the nexus of the most prolific seas in the world. Almost three times the fish and coral species of any other place in the Planet Ocean. Sharks on every dive, excitement on every wall.
Papua New Guinea divingAdventure
Papua New Guinea: Incredible South Pacific diving on the wild side, plus inland exploration and a expedition to the remote island of Umboi to a distant nearly inaccessible crater lake called "Pung" for another "X-Files" adventure where there is documented proof of the existence of a number of animals the natives call "Ropen" whose description leads only to speculation about the Pterosaurs or flying dinosaurs.
Australia Great Barrier Reef diving
Australia: Clear waters, tremendous variety of sea life, dangerous fish, snakes, shells, octopus, jellyfish, sharks, salt-water crocodiles, Aussie waters have it all, and more.
Treasure diving
treasure , underwater
Money Tree Reef: Near Cartagena Columbia this reef has been a treacherous death trap for ships for over 400 years. There are over 100 wrecks, and tons of treasure left on this reef. We get to look.
Peru: Several large very deep lakes located high in the mountains have legends regarding sunken cities, fabulous treasures, and clues to past cultures that defy explanation. Deep High Altitude diving is high tech at its most exacting, and the most over the top adventure possible.
Fernando de Noronha Bay of Dolphins
Franando de Noronha: 240 miles off the NE coast of Brazil lies the island of "The Bay of Dolphins" Franando de Noronha is one of the most beautiful and historical islands in the Americas. The watery grave of the first shipwreck in the Americas, clear waters teeming with fish undisturbed by large numbers of tourists, and with an area that inexplicably literally swarms with sometimes thousands of dolphins, we will explore the island and the mystery of why so many cetaceans come to this island to meet.
This is only a sample of the hundreds of exciting dives, exotic locations, and informative adventures we will bring you on "UNDERWATER ODYSSEY".
Yearly "Specials" include: "Aqua Angels Calendar Shoot"
Caribbean Water Sport and Fashion Gala: "Swimsuit Issue Special with top swimwear models"
One hour/Two 30-minute specials featuring watersport -vacation and adventure products including 20-25 lines of men and ladies' leisure-vacation beach wear. Celebrity hosted, with production of a calendar, and an interactive CD/DVD including interviews, out-takes, and bloopers. Unique underwater features and modeling methods will make this a truly exciting and different production.
"The Divers World"
Series 30-minute Sport and Professional Diving Programs:
Designed to introduce you to all the various aspects of sport diving and professional diving including commercial deep-sea divers. This program will explore open water, master instructor ratings and specialty training in night diving, search and recovery, cave diving, wreck diving, underwater navigation, underwater hunting, still and video photography and others. For those interested, you'll learn how to make diving a career. We will also explore the profession for divers with the "right stuff'; the highly lucrative profession of high tech deep sea commercial diving, and the truly elite "Military Specialty Divers".
First series will focus on the acquiring of the basic OWD "Open Water Diver" type of certification, what is entailed and the basic skills learned, progressing to "Advanced diver", "Dive Master", and "Instructor ratings" all shows will be interspersed with how they can be utilized in every day life, professional occupations, side jobs, and full time employment. Specific sport diving skills will be featured and described in depth, as well as the instruction courses available to master them. Est. 13-16 shows.
The second series will focus on the semi-pro skills level of sport diving, and how a career can be made with these skills. We will feature what I call "Young American Adventurers" who I have met literally all over the world working in sport diving related professions. Dive Masters, Instructors, Tour Guides, Dive Boat captains and hands, and low-end commercial jobs. Est. 8-10 shows.
The third series will focus on the Commercial Professional Diving world, where a degree in engineering and/or truly exceptional physical abilities are the norm. This varied world encompasses, off shore divers, harvesters, state rescue and recovery squads, lakes, rivers, water tanks, pipelines, shallow, deep, and frigid waters all over the planet, and constitutes one of the most dangerous yet lucrative professions known. Est. 12-15 shows.
The fourth series will focus on the truly elite "Military Specialty Diver" from the working Navy Diver, the Explosive Ordinance Disposal (EOD) units, UDT (Frogmen), and Navy Seals. These men are without equal in the world, and constitute stories without rival. EST 15-20 shows.
30 minute "Sister Show" "The Outdoor Camera"
A 30-minute sister production "The Outdoor Camera" is planned for simultaneous filming. Many episodes can be produced piggyback, at the same time, and location as "Odyssey". "Camera" will feature a different outdoor photographer each week, and their techniques for photographing the subjects they specialize in. Scenic views, underwater, macro, birds, animals, insects, plants, people, light, etc. all will be subject matter for our renowned experts. Show possibilities are limitless.
7500 Jade Cir.
Fort Worth, Texas 76180
Cell 817.996.0240
PRODUCER
UNDERWATER VIDEOGRAPHER
FAN VISION - NASCAR EVENT ADVERTISING
DALLAS/FORT WORTH TEXAS AREA TEAM MANAGER
CineMarine Aquatics
"Safety & Professionalism in Nautical Filming"
Los Angeles
- New York - Orlando & D/FW
Texas
http://cinemarineteam.com
Enter supporting content here